Date: 17-19 July 2019 | Venue: Novotel Surfers Paradise
3105 Surfers Paradise Blvd, Surfers Paradise, QLD 4217 AUSTRALIA

Your new office design, strategy,
and systems all taken care of in this 3-day planning workshop.
Do not just take space, and start selling,
it can take years to recover.

3 days all done, decisions made, checklists in place and you will know EXACTLY what you are doing.

Millions of dollars saved and made by attending this workshop before you start or if you have just started your own business.
WHAT OTHER PEOPLE SAY ABOUT WORKING WITH PETER

I would definitely recommend Peter Gilchrist, his enthusiasm and leadership is second to none. Extremely impressive scripts, dialogues and training. I will be attending again.
-Michael Kay, McGrath

You will receive the direction and groundwork essential to boost your career, you will have no reason not to succeed! Cheers Peter.
-Elisha Moore

Absolutely brilliant workshop. So much absorbed and Peter is an amazing and motivational speaker.
-Ali Pericak, Holgate Real Estate
FROM DREAM TO REALITY IN JUST 3 DAYS!
From an idea you have to your own office!
From zero to 2 million, 3 million or even 5 million dollars.
Come and learn what experienced managers already know, so you don't make mistakes along the way.
All strategies taken care of in this 3 days.
See the Agenda for this extraordinary start up
course here
The numbers you need to know.
How to get the best resources in the right direction to start off.
How do you do all this? List and sell, manage, set up Property Management, lead, make the profit you deserve and stay sane at the same time?
Your base.
Partnerships. How to construct them correctly. Who to even take with you?
Your Financials. How to get them right from the start.
The resources you require.
Office space. Where? How big?
Which CRM to use?
Your culture base. Get it right from the start.
Planning systems all laid out for you and actually supplied as part of this 3 days.
The Technology you need day 1.
What sales model will you use?
Branding. Understanding it. Choosing your brand.
Franchise or independent? Examples of creating a great brand and how to do it.
Property management. Strategies to get it set up correctly from the start. Budgeting and modelling. BDM from the start? How to grow it faster.
Your role. What is it? Your sales. How to keep your sales up and not get distracted. Options for doing this.
Recruiting. Only 2 ways. Attract them or grow them from new. Systems for both, that you can adopt straight away. The strategies, the systems… right down to the actual scripts and dialogue. Includes the best Psychological profile to use to make sure you're taking on the right people in the first place.
Training. A full 1-year system to get you started on training. New recruits all taken care of, so you can keep listing and selling.
You will design your presentation once and for all, for all in the company to use. Done and dusted here in Vault Start Up. Prospecting plans business plans…. all supplied.
Digital prospecting. Whether for your management or for your personal sales… for the first time, you will understand how to use digital to sell houses and to launch your new company to the area you want to dominate.
Coaching. Full start-up pack for becoming an effective coach. Learn from one of the best here so you are in control of the office from day 1. All taken care of in this vital segment. You will begin a journey that will never stop offering self-learning and how to coach others around you.
Customer service. The full system of 7 building blocks to make sure your clients keep coming back time and time again to your new business.
Your time management. You are coming from sales! You need to start profitably so we will show you how to keep your sales and running the company separate and successful. This segment will change your world and set you on the right path to sell up a storm and manage the company as well.
Balance. None of this is worth it if your health and the health of those around you are not looked after. A system for this will be explained so you can put it in place from the start. No burnout. No anxiety. Because you will know what to do.
Any Manager planning on opening a new office, or are in the throes of opening a new office.
Existing managers who have been in the business less than 2 years.
Any manager who has thought about, is thinking about or planning on opening a new office.
Operations and General Managers running new offices.
Operations and General Managers who have just started in the Real Estate Industry.
New Sales managers.
Selling Managers who are keen to open up a new office.
New managers looking for systems and structure to grow the business.
HIT THE NEW OFFICE RUNNING, INSTEAD OF TAKING YEARS TO GET IT RIGHT!
MY GUARANTEE
Our guarantee. If this 3 days does not deliver for you the total blueprint for your office startup I will personally transfer the funds back into your account. You can keep the manuals. Keep the bonuses. that's is how sure I am of this fantastic course and what it can deliver for you.
BONUSES FOR SIGNING UP ONTO THIS COURSE
If you attend this 3 days, as a bonus I will supply you with:
1 Caliper Psychological profile to use. Normal cost is $250.
1 Quickstart new sales persons on line course... Normal cost $950.00.
1 Follow up coaching session with PG to discuss any issues you may be having.
A full set of business plans online to use for 1 year.
I will personally critique your presentation as you build it and make sure it is right.
I will give you 3 months free access to COACHING CAFÉ FOR MANAGERS my online coaching centre.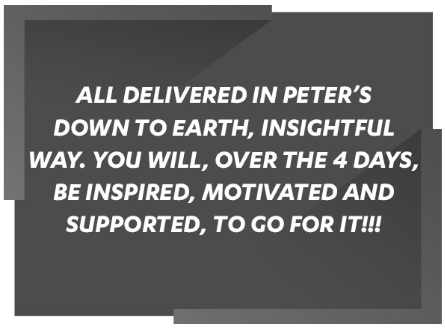 $2,500+gst for the 3 days
(Talk to us about financing this course)
Manuals, Checklists, Planning Systems, 1 free caliper, 1 free Quick Start, morning tea, lunch and afternoon tea provided.
So
All systems strategies and the detail taken care of for you once and for all. The best way for you to explore the options and make decisions as the 3 days unfolds.
Branding…decided
The model you will use….decided
The area you will dominate …decided
White boarding all aspects of the business right here n this face paced interactive workshop
It is based on Vault intensive which we teach to existing, experienced managers, some of whom are turning over $10 million!!
Do I need to definitely be starting my own business?
No you don't. The best way to make this life-changing decision is to come and see what it entails first. If you go back to selling you will know a huge amount about listing and selling more anyway. No harm done.
What if I am a new sales manager or have been offered that role.
Brilliant way to start with clarity and direction. Come!!
CONFIDENTIALITY
Obviously there will be others in the room. But we will not disclose any details of those attending to anyone outside that room.
What if I'm starting in 12 months?
I guarantee this is the best way to strategise the whole process.
Shouldn't I wait till I am up and running?
No the whole idea of this 3 days is to get the base right. Make fewer mistakes that are hard to clean up once you have started.
What if I already have a new office?
Brilliant! Come to this 3 days and let's tidy it all up for you. Get you profitable and get you the time to manage as well as sell.
Can I pay this off?
Yes you can. Let us know you want to come and we will take installments up until the seminar starts.