BACK BY POPULAR DEMAND
!
N
OW INTERACTIVE ONLINE!
The Ultimate Scripts and Dialogues Hothouse Intensive.
The Best Scripts To Change Your Prospecting And Presentation Conversations Forever!
12 Solid Hours, 100% Consultative Scripts and Dialogues That Work! The Same Scripts and Dialogues That are Probably Being Used Against You in Your Market Now!
Nothing Else Like This In The Industry!
Learn The Secret Skills That Can Bring Structure To Your Conversations And Consistency To Your Income.
See the extraordinary reaction of those who have experienced this transformative workshop!
OVER 4000 AGENTS HAVE GONE THROUGH THIS POWERFUL WORKSHOP!
Awesome 2 days of innovative and highly usable and smart ideas. We will be implementing Peter's system and would highly recommend anyone serious about their Real Estate career to attend… It will change the way you approach your career.
No one is more experienced and qualified to train agents to be authentic, real and relevant, than Peter! he leaves you feeling confident, excited and open to new possibilities... way more than just a script learning workshop!
You will never feel like you don't know what to say again... AND it will still feel authentically you!
What you will learn!

Prospecting Scripts
Peter will be doing scripts to use right now that make sense and don't sound crass. You will use them to build the pipeline for when we are back to full production.

Presentation Scripts
Peter will do each segment of this part of the program for the point of view of the current times, including what digital platforms work, AND to never miss a listing again.

Peter Will Guide You Through a Logical And Sequential scripts system to give good service without those crass, manipulative scripts. you will learn the secret skill that makes all the difference between whether you take or lose a listing!
What agents say about Peter's seminars
The two day course was one of the best that I have attended in my 44 years in Real Estate. Having attended many of your courses over the years it was great to see the spark and enthusiasm in your delivery. Will definitely make my team attend your next course when you are in Melbourne . A big thank you!
Peter is a very engaging trainer... no fluffing around...
He teaches to be honest, direct and true to your worth as an agent.
The simple straight to the point scripts and diagrams are perfect for a newbie like myself and knowing successful colleagues have benefited from Peter's guidance is great!
Last week with Peter was the best training I've done ever since I started. (I've been in the industry 15+ years) It's the basic pieces on how we do business & Peter's way of training was so engaging. It wasn't tiring, I wasn't sitting there watching my watch. It was riveting!
Brett McDonald
Raine and Horne
Always relevant. Always up to date. Always real. Keeping it simple!
Those who have ever been coached by Peter or attended his seminars know that he is popularly known as the most real, down to earth, no bullsh*t, and all about simplicity type coach/trainer!
He is all about "better life better business"!
So now, without leaving home, and for a fraction of the cost you would have paid, join us for this career changing experience!
Who should come?

Million dollar or new agents alike, will get huge gains from this workshop.

Anyone unsure of what scripts to use during the virtual lockdown times.

The coach in your office or franchise. Come and learn from the best and bring your entire team.

Buyers agents will benefit greatly from knowing these scripts.

Managers and sales managers that want to start training their teams regularly. The sequential design of these scripts makes that easy.

This revolutionary workshop is absolutely brilliant for new salespeople. For some, it's their only chance of success!
Stay in your home or office. Relatively small time and financial commitment for potentially massive financial gain!
Why 3 hour sessions of virtual hothousing?

We know how hard it is to give up this time! But here's why:
Ideally having you all in one room is best BUT that is not possible now, so next best is creating a virtual hothouse! Cut off all distractions for each days' hothouse of 3 hours! This is your best shot at upgrading or resetting your skills in the fastest and most effective way;

Our UNIQUE LEARNING SYSTEM over this time is proven to be effective in infusing these scripts into your repertoire. More confidence, more listings… instantly;

This system is very deliverable currently;

Putting 3 hours aside over 4 days now will save you hours of lost business using ineffective scripts. Great opportunity is here right now;

An opportunity to really get relevant, get confident, get skilled, get prepared for what's happening right now and what is to come when we exit this phase of the market!
Your chance to commit to these 4 days of 3-hour sessions each, ensure you are ready to join the best of the best that already know these scripts.
And… you will have your CPD points covered as well! *NSW and TAS
Turn your frenetically busy day filled with rejection, into a logically structured one!

What agents say about Peter's Ultimate Scripts and Dialogues Hothouse!
Peter is in the elite of trainers I have had in the 12 years of doing Real Estate.
I find most trainers more interested in selling than training and the training very ordinary. Peter's two day course was excellent. I actually found much of what I do to be what Peter had obviously taught me earlier. What I had found that I wasn't doing it as well as I used to and the course has put my appraisals back on track to a much higher standard. Peter is a fantastic trainer and the time invested extremely worth it.
Thanks Peter!
I just wanted to let you know I did my first listing presentation with your scripts tonight since the Gold Coast conference, and I converted a non auction lover (totally against them) into the campaign being an auction and we didn't even discuss price. Followed everything step by step and nailed it. So thank you so much for the training and manuals, you could say it's increased the hope I have for my career and I'm very grateful.
I have been in real estate for 8 years. I have Sat in "bullshit" training days to listen to agents talk about how good they are and to just put in the hours and hard work. All good to say but training should be about providing value to us as agents. Giving us the tools to better ourselves and stop missing opportunities. I honestly learnt so much in 2 days it was a bit overwhelming and I am still reading my notes over and over trying to change my mentality and my dialog around clients. I was running out of steam and struggling to find my way in real estate. Peters training has re-energised me and sparked my passion for real estate again. At whatever level you are in real estate from new to veteran you will be guaranteed to walk away from Peters training a better agent than when you walked in. To top it off the training went so fast cause it was fun and the energy Peter gives off is just amazing.
INTEGRITY STATEMENT
We have priced this workshop at a great rate, and we rely on your integrity that it is one enrolment per agent. You will at times, be paired up with someone online, just as you would in the room! The scripts will be delivered directly to your designated computer and some will be delivered to your phone as the workshop progresses.Simply "listening "to this seminar will not produce the results that "doing" this seminar will. So with that in mind……...
IMPORTANT
It can be hard to stay focused while at home with lots of distractions. This is not a course where you just listen and can go about your normal day. You are required to be PRESENT ONLINE for the full session time or the full power of this work will not be gained.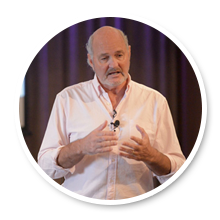 ABOUT YOUR TRAINER:
Peter is Australia's most qualified and experienced Master Coach in real estate. He has worked with the best of the best in both management and sales for over 30 years, after running his own successful office. His experience in running one on one coaching sessions is unparalleled.
The testimonials were filmed this year (2020). If they are not enough for you to commit to this special program Peter will gladly have a coaching session with you to see if this is for you.
Just call us on 0455 222 776 to make a time to speak to Peter.