If million dollar earners have coaches (and a lot do) then why would you hesitate to start your career with a mentor?
If you've started in the industry already and you've realised that you need a little more support to get you going then a mentor for 90 days might give you the added clarity and confidence you need to get started.
If in doubt about a script or dialogue ... ask the mentor!
Got a block around something ... ask the mentor!
Some strategy is simply not working ... ask the mentor!
Manager to busy to help ... ask the mentor!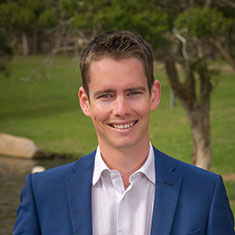 Joel Stephan
For over a decade Joel has explored his love of property, first within the construction industry, and then as a real estate agent. As a coach and mentor in the real estate industry, Joel specialises in helping agents increase their outcomes through a unique combination of process and mindset coaching.
From a standing start in real estate, Joel has achieved industry best awards from one of Australia's largest real estate brands. So he knows exactly what it takes to increase your business to reach your goals. Whatever the goals may be, Joel enjoys tackling the challenge together in an authentically 'you' way.
Joel continues to be mentored by Peter Gilchrist himself to ensure he is at the top of his game and is excited about his role with the Quick Start Training Program.